What our passengers are saying?
We appreciate the services of  Ms.Natasha, tour Director, and Ken, (driver) for their careful attention, guidance. We are seniors, they both showed extra care.
Ms. Natasha went the extra mile to help us out in finding  Rly. & Taxi services to go out of town. Our immense thanks to her.
The trip was very enjoyable.
We thank you
Sincerely,
Vijaya (Viji ) & Aruni
Chicago coach tour from Toronto, May 20-23, 2022
I just come back from one wonderful trip to New York. The hotel was lovely and clean. The tour director Julie was fantastic and very helpful. John the drive was a brilliant. It's the best vacation I have had in years. Thank you so much for a lovely vacation. I am ready to book my next vacation. Vivian M. Toronto Canada, May 25, 2022
May Victoria day long weekend 2022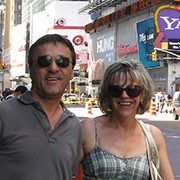 Hi Julie, I wanted to take a minute and thank you (and John) soooo much for everything. The trip was awesome! There were plenty of stops… You kept things light, with still giving us great direction all the way through. We're booking Chicago very end of next summer, early fall. We hope you're there. It was a great experience all the way around. Ronda E
Nashville trip from Toronto April 21, 2022
I just wanted to take this opportunity to once again thank you and Patty for the amazing trip/tour this holiday weekend. We felt very safe and comfortable during this trip.
Initially I was going alone but then my son decided to take time away from his busy life and join me. I am blessed and grateful he did because we had a great time just us two :) lots of memories made and as he told me he is happy he joined this tour :) and the Uber driver on way home heard it all from him - lol.
Your kindness, professionalism and wonderful personality was so refreshing mixed in with great stories and laughs.
Again thank you Sue and Patty!
Thanksgiving Long Weekend Trip to Montreal 2021
Dear Comfort Tours Toronto Management:
It is important for you to know that SAFETY is of utmost importance in travel and especially travel in another country.  I want to commend your employees, Natasha and Ken, (driver) for their very careful, comprehensive, guidance, in handling a coach full of people, many who are seniors, like myself.  Because of the excellent management of a milieu of details, the trip was very enjoyable.  Thank you😊
Sincerely,
Beverley C
Dec 29, 2019
Great driver and tour director