What our passengers are saying?
I had the utmost pleasure of going to Nashville and New York City with Comfort Tours. On both trips the tour guide was Julie and the bus driver was John. What two amazing, fun, and professional individuals.  John is an excellent driver, has a great sense of humour, is very courteous, and has interesting information and stories to share about our exciting destinations. Julie is organized plus, fun, knowledgeable, and goes the extra mile to make sure every traveler has the best time possible. She is one of the best tour guides I have ever traveled with. Hotel accommodations are always top notch. In Nashville we stayed at the Gaylord Opry Resort which was absolutely stunning with six different themed areas and all decked out with Christmas lights and themes. It provided an experience of a life time in itself.
In New York we stayed at the Hyatt Regency in New Brunswick, New Jersey and walking distance to the train station with a short ride into New York if you want to stay out late. New Brunswick is quaint with an Irish Pub across the street with live music, an excellent seafood restaurant, and I even went to a comedy club one night. For those that didn't want to stay in New York, Julie organized a group dinner at Rafferty's a local restaurant.
On both trips, excellent local tour guides provided tours of local attractions and highlights. It's absolutely amazing the amount of things you get to see and experience on these tours. I also appreciated having tons of free time to explore on my own. The prices at Comfort Tour are reasonable compared to other tour companies with similar tours.  Customer service from Kim and Al are always excellent. I have gone on four trips with Comfort Tour with a fifth booked for Washington. My special requests are always responded to in literally a matter of minutes and bookings responded to immediately. Finally, as a sole traveler I appreciate that the single supplement is only $100 compared to several hundred with other companies.  My only suggestion as I have heard from fellow travelers is that it would be nice if the tours were one day longer.  Keep up the great work!
Patty P., Toronto
New York NYC & Nashville TN bus tour, satisfied loyal customer
Wow….!!Great pictures!
Happy New Year Julie continue being so lovely😊 you guys handle our tour very well….
i will surely recommend your company to my friends….
Thank You!
Juvelyn A
New Years coach tour to New York City 2022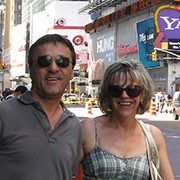 Hi Julie,
I've been meaning to send you a note of thanks for our wonderful tour to Frankenmuth, MI.
Such a pleasant and lovely town, I would definitely like to visit again sometime.
If Comfort Tours continues with this destination for future tours I thought I would share a few things from my experience in the town that may help other travelers.
The dates we visited:
Apparently the weekend we toured (Dec 2-4) was a busy one. We learned from locals that during our weekend Santa was in town (a big deal in Frankenmuth) and was also at the Bavarian Lodge, along with the owners - this is probably why the rooms were sold out and why there were larger than normal lineups for some of the popular attractions and events in town.
Horse & Buggy:
This seems to be very popular and a recommendation is to make a reservation ahead of time. Unfortunately, by the time we realized this the only options were too late in the evening for us. Perhaps make your reservation for the horse & buggy and then go to Zehnder's.
Zehnder's:
Another popular place. We went early on the Saturday, around 4:00ish thinking we would beat the dinner crowd. This was not the case. This is where the locals in the line with us told us that this was a particularly busy weekend. We waited in the line for 45 minutes just to put our name on the list and they were not taking reservations. Once we got to the head of the line we were told it would take another 40 minutes. In actual fact, luckily, we only waited an additional 15 minutes.
This is a wonderful restaurant and experience if you are a family or in a group due to the family style dinners they serve. It was just Nancy and I that attended so we did not order the family style meal but instead ordered entrees off the menu. We were a bit disappointed with the entrees, a bit pricey for what we received. The food was good though and all selections did come with the multiple appetizers, same as what comes with the family style dinners - we found we had way too much food for two people by way of the appetizers (which we didn't realize were part of our order). Again, it is best if you plan to go in a group or groups of 4 - like we did at Cracker Barrel.
Bus as a shuttle:
This was a great idea! Something to consider would be expanding the shuttle to run a bit further past Bronner's Christmas store to the area where the antique shops are.
All in all, I had a wonderful tour and would definitely go again.
You and John are awesome - I hope to travel again with you in the future.
All the best wishes to you over the holidays and in 2023!
Deborah
Frankenmuth, MI tour from Toronto, December 2022, Christmas special tour
Hi Julie
Just wanted to thank you again for a great trip to Nashville.
We had a great time!
Please thank John again for me.
I'll definitely be taking another trip with Comfort Tours again.
All the best and safe travels.
Chantal J.
Nashville bus tour from Toronto on November 10, 2022
Hello !!
My name is Gary L., I was on your trip to New York City on October 13 to th3 16th.
It was AMAZING !! We were guided by Natasha Goranskaya and she was fantastic !!!
The best trip I have ever been on.  She kept us well entertained and unbelievably informed
on every street !
Just wanted to let you know I have recommended you to all of my friends and family !!
Thank you so much !!
Gary L
Amazing New York City tour from Toronto