What our passengers are saying?
Our trip to NY with Natasha and Miriam was outstanding!!! Very well organized!! Always helpful, Miriam drove through NY like it was a country road!! Such a great driver, Natasha was a great tour guide!! Would highly recommend Comfort Tours!! Thanks for the memories!!! Birgit and Diana
New York City July 18-21, 2019
Hello,
My sister and I just came last from your East Coast Canada trip and it was such a wonderful and relaxing trip. Julie was awesome and very knowledgeable and very helpful; Norm did an amazing job driving through some of the narrow streets.
Excited to see what other tours you guys will be planning in the future. Would love to see a west coast trip one day, maybe covering Banff and Jasper and heading west to Vancouver.
Salima
East Coast of Canada Tour 2019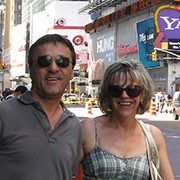 July 12, 2019 After doing the Comfort Tours Bus Trip in the summer of 2017 to NYC, we decided to book the Chicago Bus Tour for July long weekend 2019. Julie and Gregg exceeded our expectations. Julie was so kind, knowledgeable and helpful I honestly could not ask for a better tour guide. Gregg the bus driver was a superb driver being calm and attentive to the passengers. The McDonalds Campus Hotel blew us away in terms of grounds, comfort, the pool and especially the made to order sit down breakfast. Fantastic! The Chicago Tour itself was filled with so many interesting sites and never felt unsafe. Wow what a affluent city. Ed the tour guide from Chicago just made it that more interesting with his knowledge. Highly recommend and for the price great value. We will be back for another city tour soon! Kathleen F
Chicago tour by Comfort Tour Canada
My 20 year old son and I went on our 2nd Comfort Tour on June 20-23 to Boston. We had a great time with our tour director; Pam and bus driver; Sean. This was a very different bus tour than New York City but equally as good. We met a lot of wonderful people on the trip who were especially nice to my son since he was one of the younger people on the trip. We had a full itinerary while in Boston. I did not find we had as much free time to explore as expected but we were kept very busy. This will just give us an excuse to come back to this beautiful city! Pam was very knowledgable on the Boston area and was always willing to go that extra mile to find info or help when asked. She kept us entertained on the bus with all her info, stories, jokes, movies and games. Sean was an excellent driver and also went out of his way to make sure everyone got to where they wanted to go. He made sure our group of 4 were dropped off as close as he could get when we decided to take the Sunset Cruise on the Saturday night. We certainly did not expect him to make a special stop  but we appreciated the offer just the same! Boston is so rich in history and I felt like we were in a moving school class listening to all the info provided. I did not care for history while in high school but loved hearing how history moulded Boston into the city it is today. Many thanks to Comfort Tours for another great adventure. Hopefully next year we will experience Chicago! Tammy
My husband and I just returned from our first trip with Comfort Tours from Quebec City and we thoroughly enjoyed it. Thanks to our tour director Elena Louch and bus driver Betty. It was well organized/timely and the group was friendly and pleasant. Thank you - Angeline
Quebec City June 28-July 1, 2019