What our passengers are saying?
My husband and I returned from a 4 day bus trip to New York City last night and want to share with you that we had an amazing experience. Our tour guide Eliane and bus driver Mariam were excellent – wonderful personalities and so knowledgeable. We travelled with our daughter and granddaughter and will certainly plan to do another bus trip. It far exceeded our expectations due to Eliane and Mariam! Paul and Sylvia
New York City July 25-28, 2019
Hi Julie,  We just wanted to thank you for sending the east coast pictures-such great memories!  Also a big thanks for the awesome job you did as our tour director. We have been on different trips before but never a guided tour and we were not sure what to expect. Your guidance, help, laughter and friendship made this a trip to remember!
Take care, hope to see you again!
Dave & Anne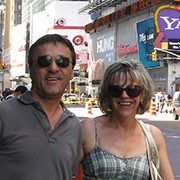 I wanted to say a big THANK YOU to Miriam and Natasha for an amazing time on our NYC Tour July 18-21, 2019. Both ladies were amazing. Miriam's bus driving skills throughout NYC and beyond was impressive to say the least. Natasha made the trip even better with her stories and expertise of the area and her guidance as to how to navigate the city while on our time was perfect. It made us feel safe and comfortable during our entire visit. Definitely one the best girls weekends we have experienced. Janice & Kathy
New York City July 18-21, 2019
I would like to thank you again for organizing such a unforgettable adventure.  Its a trip I will never forget.  I enjoyed all the places we visited and everything else..
Lovely pictures.
thanks again. -Vionne
Our trip to NY with Natasha and Miriam was outstanding!!! Very well organized!! Always helpful, Miriam drove through NY like it was a country road!! Such a great driver, Natasha was a great tour guide!! Would highly recommend Comfort Tours!! Thanks for the memories!!! Birgit and Diana
New York City July 18-21, 2019