What our passengers are saying?
Hello Comfort Tours - Nashville trip May 16-20, 2019.  We would like to provide our comments/feedback from our wonderful trip last weekend to Nashville.
As this was our very first bus tour, we were pleasantly surprised at how well organized, comfortable and safe the whole excursion was.  Both the tour director, Julie and the bus driver, John contributed greatly to the success of our trip to Nashville.  The hotels were top-notch and the rooms were extremely spacious and comfortable.  Loved Nashville so much that we are planning to return in the very near future.
Sincerely Cesare and Anna-Marie of Vaughan, Ontario.
My mother and I had the pleasure of touring Boston with Eliane. Eliane's enthusiasm and energy is contagious! She made the twelve hours on a bus fly by. The tidbits she shared about our destination points were interesting and valuable in appreciating points of attraction. Every aspect of the tour was meticulously planned and organized to make the best use of our time. Thank you again Eliane for your fantastic service! - Valeria
Boston *Victoria Day* May 17-20, 2019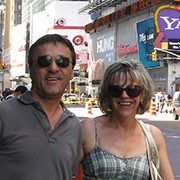 Hi Julie! I cannot tell you enough how much we enjoyed this trip (our first ever bus tour)! It is people like you and John that I have no doubt make for return clients, as I assure you, Doug and I will be!
Along with the laughs you both provided, as our 'hosts' of sorts, the obvious genuine concern for the wellbeing of  passenger comfort, understanding of timelines to ensure fair and timely flow of our tours and rest stops and overall safety, demonstrated both yours and John's experience, dedication and enthusiasm to your roles with the tourism industry.
Thank you both for your very obvious cares and concerns from the moment we joined the excursion! You are both a true credit to the companies you represent.
Doug and I will definitely be booking a future trip(s) based on our truly wonderful experience with you and John.
Yours very sincerely,
Karen and Doug
Washington D.C. April 11-14, 2019
We wanted to let you know we enjoyed the Washington tour with your company and with Julie, our trip manager very much. The bus trip to Washington was long but there were enough stops to allow you to stretch your legs and to chow down. Julie was helpful in all things and always made sure that your needs were taken care of and followed up to ensure they were. Julie was always pleasant and made sure that every day trip and stop was well arranged and organized. It is not easy to always be able to do that for 41 people but she carried it off well. We were always kept up-to-date with the plans for the next day and arrival/departure times were accurate. I know my wife is already talking about our next trip. I have included a picture of our little group. Thanks again. Daniel & Debra
Washington D.C. April 11-14, 2019
April, 23, 2019 Hello, Just wanted to drop a few lines and say - what a great trip! I am a 6th time return customer different destinations, tour directors and drivers, and I can honestly say that I never had a bad experience with Comfort tours. This time I even brought two of my friends with me, and they absolutely loved it! Natasha is one of the best, she is very informative, knowledgeable,  funny, witty and above all crazy helpful - so many useful tips. She has a way with people it seems - I've traveled a lot but never has a group of people been more as obedient and punctual as this last group, way to go Natasha! And of course Harry, what a trooper!  Another big hit was our step on tour guide in the city (I believe the name was Michael??, if anyone knows his full name I'd appreciate a response as I would love to drop a line and say thank you from the three of us through social media as we did not have time to do it in person. All in all, a big thanks to the whole team! Keep up the great work and quality of service as that is something really hard to find these days. These trips are a perfect little quick escape from reality, both fun and educational but all that would be irrelevant if it was not for the tour director and driver that make the experience as best as it can be. Great job guys! Thanks, Tajana L
Washington Cherry Blossom coach tour