What our passengers are saying?
We had a great trip, weather was great, our Tour guide Natasha was fabulous. This was our 5th week-end trip with your tours, which are all good, I think this moved to #1 We also managed to get tickets down there for the Blue Jay Game at Wrigley Field with Natasha's help/instructions found our way there  with trolley and subway. Thank you S. Bracewell
Chicago August 17-20, 2017
although its a little late, my husband Ren and I would like to say how much we enjoyed the Boston tour with Julie on June 30th. My husband Ren is an ex coach tour driver and he and Fred(?) got on like a house on fire. Julie was expert at shepherding us round and although this was my first bus tour, and Rens first as a passenger it was wonderful and exceeded expectations. Plenty of opportunity to stop and refresh on the long drive there and back,, and enough free time to explore. Hotel was excellent and the other passengers were so easy to get on with. All in all, we definitely would recommend your company. kind regards, Barb and Ren
Boston Canada Day Long Weekend 2017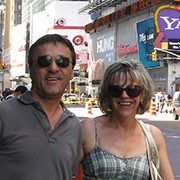 We had a fantastic tours in NYC with the help of our fantastic tour guide Marilyn Perlman and bus driver Marian.  Marilyn was on time and well organized and full of good information.  During the tour she guided in all safety and without confusion. Marilyn showed us the best of NYC  and NJ.  She made our experience unique and gave us memories to last a lifetime.  Marilyn cultural information was amazing and her English was excellent . She was easy to understand and to converse with.  Marilyn definitely made us love NYC  and all it is offering. We would definitely recommend Marilyn as a tour guide. Can't wait for our next tour with Comfort Tours.
Thank you,
Sonia F
Great trip to NYC with our tour director Marilyn
Good afternoon.  I would like to commend our tour director Carole Hartley, and our bus driver Al Vlietstra for a most amazing four days in New York City.  Myself and three girlfriends boarded to bus in Scarborough, and although the drive was long on the first day, Al and Carole made sure that we had plenty of stops along the way.  We were so taken with the hotel accommodations in New Jersey, they were top grade.  The step on guide, Eugene, was so knowledgeable and gave plenty of personal stories to add to the vast array of sights that we took in.  The boat tour to Ellis Island and Statue of Liberty were so organized by Carole.  She is definitely a professional in her trade.
I have travelled with many tour companies through Europe, United States and Canada, and can honestly say that Comfort Tours is at the top of my list.  Thanks to your company for providing top notch service to customers.
I was trying to add this review to your homepage but could not find the link.  I hope that this email is forwarded on to Carole and Al for their exceptional customer service.
Carol Pearcey
Great New York City Travel and Tour with great drivers and tour directors
Would like to say how much we enjoyed our trip to New York city. Carole our tour guide and Al our bus driver from Kunkle bus lines were wonderful. Carole kept the group organized and well informed all the way along. Her tips and hand outs of maps of New York and the shopping outlet were really a life saver. Carole was so knowledgeable both with New York and world travel and kept us entertained both ways...lots of tips and travel adventures she had experienced. Al new the city like the back of his hand and handled the bus superbly through the traffic and at times tight turns. The trip had us to all the highlights of New York and more. The hotel the Hyatt in New Brunswick, N.J. was excellent..great beds. We and our friends were the "seniors" on the trip...but they looked after everything and anything we had to deal with. We would highly recommend Comfort Tours to anyone thinking of taking this trip. One suggestion ...as we did take the return trip to the hotel on Sunday by train. ..change the location to 7th St. and 31st Ave....instead of 7th and 33....it makes it two blocks shorter. We felt this trip was so well run..we are thinking of taking another trip with Comfort Tours...maybe to Chicago Carol and Gordon W
Great New York City Trip from Toronto Ontario Canada