What our passengers are saying?
Hi Comfort Tours My husband and I were on Julie's bus for the NYC 4 day tour starting August 24th, 2017 leaving from Toronto. I'm writing to tell you how much we enjoyed the trip and how happy we were with Julie as a tour guide. This was our first bus tour and first time to NYC and we were skeptical about whether we would like it. You did a good job for us on our first experience and we look forward to picking our next trip with Comfort Tour soon. Regards, _________________________________________________ Linda D
Great experience on our first bus trip
I wanted to take a moment to express my thanks and appreciation to Julie
and Greg our Tour Director and Driver .
This was my first experience traveling with Comfort Tours and because of
Julie and Greg I plan to visit more of Comfort Tours destinations.
When you have a person like Julie making the experience so enjoyable,
informative and  simply put "so much dam fun" you just wanna grab some
clean clothes and hop on the next tour . She was beyond fantastic.
Greg our Driver... what can I say about a guy who drives a great big bus
all over NYC  he is awesome!!
So in closing I will be telling everyone I know about your company as I
thoroughly enjoyed my first experience with Comfort Tours and that is
because of Julie and Greg .  I would hope you would acknowledge the great
representation they bring to your company .
Sincerely
Linda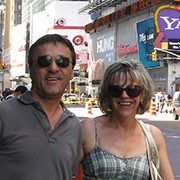 We just came back from a bus tour to New York City with Tour Director Natasha G. I can't tell you how wonderful she is at what she does. She was in total control at all times, was incredibly informative about each and every aspect of the trip and made us all feel like we were part of a family. I was totally impressed with her and it is because of Natasha that I would book another tour with your company. Please note that our bus driver Miriam was another treasure.....boy, can she handle a bus in a tight spot and she, as well as Natasha, was extremely friendly, knowledgeable and confident in taking care of us during our journey to and from NYC. Karen B
Great trip to New York City from Toronto from Karen B
We had a great trip, weather was great, our Tour guide Natasha was fabulous. This was our 5th week-end trip with your tours, which are all good, I think this moved to #1 We also managed to get tickets down there for the Blue Jay Game at Wrigley Field with Natasha's help/instructions found our way there  with trolley and subway. Thank you S. Bracewell
Chicago August 17-20, 2017
although its a little late, my husband Ren and I would like to say how much we enjoyed the Boston tour with Julie on June 30th. My husband Ren is an ex coach tour driver and he and Fred(?) got on like a house on fire. Julie was expert at shepherding us round and although this was my first bus tour, and Rens first as a passenger it was wonderful and exceeded expectations. Plenty of opportunity to stop and refresh on the long drive there and back,, and enough free time to explore. Hotel was excellent and the other passengers were so easy to get on with. All in all, we definitely would recommend your company. kind regards, Barb and Ren
Boston Canada Day Long Weekend 2017