What our passengers are saying?
We just returned from a Fabulous trip to Washington DC August 16-19 2018,with our Tour Director Gerda and John the bus driver. Gerda was very knowledgeable with all the history Involved in this tour. There is so much to see and so much American History to take in.. All the monuments are really something to see. John got us around Washington with ease. .Thanks so much for the safe trip John. This was our second trip with Comfort Tours this year and we totally loved both of them. Looking forward to our third trip with Comfort Tours some time soon. Randy & Janice
Washington August 16-19, 2018
Hi Julie, My mom Paula Oliveira and I Bianca Oliveira were on your New York trip on July 26 to July 29 2018. We just wanted to thank you for the awesome trip you put together. You are an amazing person and gave us helpful tips to get around New York. Never in a million years would we ever expect to meet an incredible person who was a 9/11 nurse. We were honored to take a tour around his city with him. We will never forget our NYC trip and whenever we go back to NYC hopefully it will be with you,Eugene and John the bus conductor.We are so glad you were our tour director for New York and can't wait to go with you to Chicago next year!. Many thanks, Bianca and Paula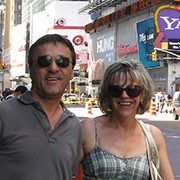 Hi, Writing just to thank the whole team of Comfort Tour for making the trip to New York City on Aug 3rd a great experience. Special thanks to Carole and Patty, they are so awesome people. Great experience and brilliant planning of the tour. We felt like home the whole time though we were total strangers in the group. Wishing both of them and the team all success in future. We don't have to think twice while we plan our next trip which you offer :) Regards, Sajid
 Good morning,
 I just wanted to say how great the weekend was in Boston......travelled with my BFF, Jeannie.....everyone on our tour got to know her very well.....fun person!......laughed the whole weekend!
    Ken and Julie, you were great......Ken you were an excellent driver....great person......Julie knowledgeable......wonderful tour guide.......wonderful spending time with both of you.....very accommodating......lots of fun....lots of laughter.......city of Boston is amazing......
    All the passengers onboard were great!
    Thank you again Ken & Julie.....both of you are the best👌😃
    Rose
Just wanted to let you know how much we enjoyed the trip to Boston this past weekend, the service from Ken the driver from Denny's coach and Julie your tour guide was simply wonderful, they couldn't have done anything else to help make it a better experience, Julie offered so many options for people while maintaining the main tour itinerary, great job. Boston was our first taste of doing a bus tour, next up is a trip to NY in just over two weeks with you too. Can you pass along our thanks to all your team that made this a great trip. Cheers, Michael G