What our passengers are saying?
We have just returned from the Victoria holiday weekend Comfort tour to Chicago. Although the weather was chilly and often wet we really enjoyed this amazing city. Our tour director Natasha's extensive knowledge of Chicago and her ability to create special fun moments made our visit enjoyable. Her energy and enthusiasm are infectious. The hotel is lovely and peaceful in a natural setting. Our coach driver Greg displayed professionalism and good humor. We all felt safe and accommodated. We recommend this well paced 4 day adventure. Cliff and Marj
I was on your tour if Nashville that just returned on May 21st. I wanted to say that Julie made the trip very memorable her knowledge of the area and its' history increased the experience immensely. I enjoyed the accomidations we had and found the hotels to be very comfortable and welcoming. Nashville is a very vibrant and exciting place to visit. Thanks again Julie for making the journey the best. Regards, Arthur B.
Nashville May 17-21, 2018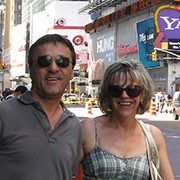 Our family of four just returned from a Trip to New York City with Comfort Tours (our second in 3 years). We had a fantastic time and special thanks to our Tour Director Julie for making it a very pleasurable, safe and memorable one. Julie was very helpful, knowledgeable about the streets and Tourist attractions in New York, went above and beyond with decorations & created that party atmosphere on the bus to ring in the New Year. We had a wonderful time and special thanks to Julie for making it happen. - ALLWYN
We travelled to New York city Nov. 30 to Dec. 3/17 with driver Ken and tour director Julie (our third trip with Comfort Tours) and thoroughly enjoyed our trip. Ken's driving skills and Julie's guide expertise are second to none making the trip a most enjoyable experience. We were joined by Eugene for a city tour who was most informative, funny, full of facts about the city and overall an excellent as well as informative guide. We would highly recommend Comfort Tours, Ken and Julie for choosing your travel arrangements. Ray and Connie
NYC November 30-Dec 3, 2017
We just came back from a bus tour to New York City with Tour Director Natasha Goranskaya. We were extremely impressed by her professionalism, knowledge and the manner she conducted the tour. We had a great time thank to her being so informative, attentive and fun! We will definitely go with Natasha on another trip to New York!
Last but not least we want to thank our amazing bus driver John.
Best regards,
Raluca & Cristian