What our passengers are saying?
TO WHOM IT MAY CONCERN I have tried to  write a review on your website, but cannot find a link to that.  In any event, here are the thoughts of my husband and myself regarding the trip. Firstly, we must say that Heidi was absolutely wonderful.  She was highly organized, friendly, kept us moving, herded up the troops when someone was late or missing, and in general taught us a lot about Canada.  I have lived here for over 45 years and didn't realize I knew so little about Montreal and Quebec City's vast historical past.  We were very impressed with Heidi's knowledge and how she imparted all the facts to us without ever making it boring.  She is definitely an asset to your organization. Harry, our driver, needs to be commended on his patience and great driving skills.  He kept that coach moving in spite of harrowing traffic turns, especially in Quebec City, and we always felt safe. This was our second trip with Comfort and our next will be to the Maritimes.  In our opinion, Heidi would be a great person to lead that tour as she has extensive knowledge of the area. Thank you for making our long weekend even better. Denise and Newton S
Great Montreal, Quebec City, Ottawa City tour from Toronto Canada
I must say that I was more than pleasantly surprised how great the tour and all its components were on the July 27/17 trip. I was a little reluctant about the long bus ride there as was my friend who did back out at the last minute so not only did she lose her deposit but also a very pricey ticket to the Eagles concert which was fabulous. The bus tour was very well organized, stayed on time and gave us a quick overview of so many things that we would not have otherwise been aware of. The hotel was beautiful and buffet breakfast lovely. I cannot say enough about Julie C who was fabulous in so many ways. Patience being one of them. She was extremely helpful putting up with the zillions of questions I asked mostly about directions. Well done Julie! John the bus driver was a sweetheart and it never ceased to amaze me how well he manipulated the bus so easily in all that crazy traffic. We found it a very relaxing trip from beginning to end and would do it again in s heart beat! Ps Pat the American tour guide knew her stuff well too! Pam Ward /john C
Great New York City tour from Toronto Canada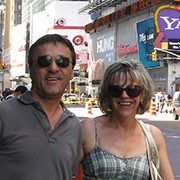 I very much enjoyed my trip to New York. Natasha was an excellent tour guide and I found her to be very knowledgeable about the history of all the places we visited. Her humour and stories made the trip very enjoyable and memorable. Natasha continually went out of her way to be helpful and I was able to easily navigate New York City on my own with confidence as a result. Our bus driver, Greg, drove in the busy New York traffic in a safe way with ease. Thank you Natasha and Greg for a wonderful trip!
Feedback:
Hotel location: With our hotel ( Hyatt Regency) being in New Brunswick, New Jersey there was an hour drive between New York City and our hotel twice a day. I felt that this created a lot of wasted time driving. In speaking with the other passengers, we all felt that we would have been willing to pay a little more to stay in NYC. Many of us felt rushed to make the 8pm deadline to be on the bus to head to the hotel, as we were not comfortable trying to navigate the subway system late at night. If the hotel was located in NYC, I would have stayed out later and seen more.
Thank you.
Megan
Hello I am sending this email to let you all know of our great trip to NYC over the weekend.  This was due largely to your hard work from the office to accommodate our previous trip we had to cancel including honouring our deposit and to the tour guide and driver. I was so happy with our driver Al and his great driving skills.  Not only did he face several stressful situation driving in NYC he always handled it with  grace, patience and put everyones safety number 1... but the best part he always did it with humour a SMILE 😊.. Our guide Carole always made sure we knew exactly what was going on.. kept everyone on track..and also did it was humour and style.  Her many years of travel service shines through and it is very evident you need someone like her fronting these tours.. as you cannot ever beat experience. My son and I felt so fortunate to get this great group of staff along with the great bunch of fellow travellers that I will be recommended your tour to all my friends, family, colleagues and trip advsior! Thanks again for a wonderful holiday. Sincerely, Kathleen and Dylan
Eliane, I will always remember to pass along how good and reliable
Comfort Tour is because of your service.  Besides your excellent handling
of our NY City Tour, you went over and above your call of duty for this
request of mine.  This kind of service makes a big big difference.  My
hats off to you!!!
I wish Comfort Tour and you, Eliane more success!
Elizabeth
New York City June 5-8, 2017