What our passengers are saying?
My daughter and I just returned from Washington DC tour on Sunday July 22. It was her 19th birthday gift and it was amazing!! Natasha our guide and John the driver (aka Mom and Dad) were so knowledgeable, kind and really made you feel welcome and safe! The guided tours were wonderful and we were able to see so many things that I'm sure we wouldn't have made it to if we had gone with Comfort Tours. Natasha and John were so flexible when it came to drop offs for our free time. I would highly recommend this tour to everyone of all ages and I can't wait until my youngest turns 19 so we can try another tour, maybe New York. - Marcy
Washington July 19-22, 2018
Just returned from the tour from Boston and had a fabulous time. Our tour guide Pam and our bus driver Ken they are absolute stars!! We had an absolutely fabulous time. The hotel was awesome the tours were well done I wouldn't hesitate to take another tour with Comfort Tours. Can't wait for the next one!! - Yvonne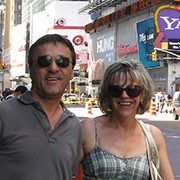 I just got back from a Boston tour with Ken as our bus driver and Pam as our host and I wanted to let you know that they went over and beyond what I would have expected as our hosts..... They were like a part of the tour in every way and any request we had, they went out of their way to accommodate all of us. I would take a tour with them again in the future and would very highly recommend them . Brilliant job guys. Diane
Hello Five of us went on the tour above and we want to take a minute to offer our feedback. Our tour guide was Pam Cook and our bus driver Ken McKenzie . We had a wonderful trip. From the moment we boarded the bus and met Pam and Ken we were treated like VIPs. We had nothing to think about but having fun. Pam is a wonderful guide and even though I am sure she has done this tour many times, her enthusiasm, good humour and above all her desire to give everyone of us on the bus (48) her personal attention, shone through. She entertained us on the bus with little stories and games. She is a fantastic embassador for Comfort Tours. Ken our driver could not have been more accomading and went out of his way to get us to all the attractions. We felt so safe and relaxed on his bus. Yours sincerely Catherine, Mick, Bernard, Marie D and Marie P.
My daughter and I just returned from Boston and we had a wonderful time in spite of the heat. Heidi was our tour guide and she went out of her way to arrange a whale watching tour for us that was not on our itinerary. What a kind and pleasant person to spend 4 days with. Our Denny's driver Ken was the best and our accommodations and bus were clean and comfortable. I will definitely be using Comfort Tours again. Thank you - Jean
Boston June 29-July 2, 2018