What our passengers are saying?
We had a fantastic tours in NYC with the help of our fantastic tour guide Marilyn Perlman and bus driver Marian.  Marilyn was on time and well organized and full of good information.  During the tour she guided in all safety and without confusion. Marilyn showed us the best of NYC  and NJ.  She made our experience unique and gave us memories to last a lifetime.  Marilyn cultural information was amazing and her English was excellent . She was easy to understand and to converse with.  Marilyn definitely made us love NYC  and all it is offering. We would definitely recommend Marilyn as a tour guide. Can't wait for our next tour with Comfort Tours.
Thank you,
Sonia F
Great trip to NYC with our tour director Marilyn
Good afternoon.  I would like to commend our tour director Carole Hartley, and our bus driver Al Vlietstra for a most amazing four days in New York City.  Myself and three girlfriends boarded to bus in Scarborough, and although the drive was long on the first day, Al and Carole made sure that we had plenty of stops along the way.  We were so taken with the hotel accommodations in New Jersey, they were top grade.  The step on guide, Eugene, was so knowledgeable and gave plenty of personal stories to add to the vast array of sights that we took in.  The boat tour to Ellis Island and Statue of Liberty were so organized by Carole.  She is definitely a professional in her trade.
I have travelled with many tour companies through Europe, United States and Canada, and can honestly say that Comfort Tours is at the top of my list.  Thanks to your company for providing top notch service to customers.
I was trying to add this review to your homepage but could not find the link.  I hope that this email is forwarded on to Carole and Al for their exceptional customer service.
Carol Pearcey
Great New York City Travel and Tour with great drivers and tour directors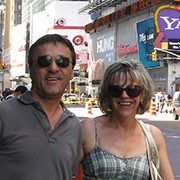 Would like to say how much we enjoyed our trip to New York city. Carole our tour guide and Al our bus driver from Kunkle bus lines were wonderful. Carole kept the group organized and well informed all the way along. Her tips and hand outs of maps of New York and the shopping outlet were really a life saver. Carole was so knowledgeable both with New York and world travel and kept us entertained both ways...lots of tips and travel adventures she had experienced. Al new the city like the back of his hand and handled the bus superbly through the traffic and at times tight turns. The trip had us to all the highlights of New York and more. The hotel the Hyatt in New Brunswick, N.J. was excellent..great beds. We and our friends were the "seniors" on the trip...but they looked after everything and anything we had to deal with. We would highly recommend Comfort Tours to anyone thinking of taking this trip. One suggestion ...as we did take the return trip to the hotel on Sunday by train. ..change the location to 7th St. and 31st Ave....instead of 7th and 33....it makes it two blocks shorter. We felt this trip was so well run..we are thinking of taking another trip with Comfort Tours...maybe to Chicago Carol and Gordon W
Great New York City Trip from Toronto Ontario Canada
TO WHOM IT MAY CONCERN I have tried to  write a review on your website, but cannot find a link to that.  In any event, here are the thoughts of my husband and myself regarding the trip. Firstly, we must say that Heidi was absolutely wonderful.  She was highly organized, friendly, kept us moving, herded up the troops when someone was late or missing, and in general taught us a lot about Canada.  I have lived here for over 45 years and didn't realize I knew so little about Montreal and Quebec City's vast historical past.  We were very impressed with Heidi's knowledge and how she imparted all the facts to us without ever making it boring.  She is definitely an asset to your organization. Harry, our driver, needs to be commended on his patience and great driving skills.  He kept that coach moving in spite of harrowing traffic turns, especially in Quebec City, and we always felt safe. This was our second trip with Comfort and our next will be to the Maritimes.  In our opinion, Heidi would be a great person to lead that tour as she has extensive knowledge of the area. Thank you for making our long weekend even better. Denise and Newton S
Great Montreal, Quebec City, Ottawa City tour from Toronto Canada
I must say that I was more than pleasantly surprised how great the tour and all its components were on the July 27/17 trip. I was a little reluctant about the long bus ride there as was my friend who did back out at the last minute so not only did she lose her deposit but also a very pricey ticket to the Eagles concert which was fabulous. The bus tour was very well organized, stayed on time and gave us a quick overview of so many things that we would not have otherwise been aware of. The hotel was beautiful and buffet breakfast lovely. I cannot say enough about Julie C who was fabulous in so many ways. Patience being one of them. She was extremely helpful putting up with the zillions of questions I asked mostly about directions. Well done Julie! John the bus driver was a sweetheart and it never ceased to amaze me how well he manipulated the bus so easily in all that crazy traffic. We found it a very relaxing trip from beginning to end and would do it again in s heart beat! Ps Pat the American tour guide knew her stuff well too! Pam Ward /john C
Great New York City tour from Toronto Canada