What our passengers are saying?
Hi Julie
Just wanted to thank you again for a great trip to Nashville.
We had a great time!
Please thank John again for me.
I'll definitely be taking another trip with Comfort Tours again.
All the best and safe travels.
Chantal J.
Nashville bus tour from Toronto on November 10, 2022
Hello !!
My name is Gary L., I was on your trip to New York City on October 13 to th3 16th.
It was AMAZING !! We were guided by Natasha Goranskaya and she was fantastic !!!
The best trip I have ever been on.  She kept us well entertained and unbelievably informed
on every street !
Just wanted to let you know I have recommended you to all of my friends and family !!
Thank you so much !!
Gary L
Amazing New York City tour from Toronto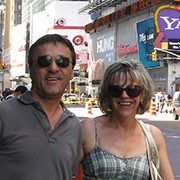 Dear all,
The NYC tour was impressive! I am so happy with the tour, Mike was an excellent driver, kind helpful professional, Gerda the tour director provided such a splendid experience. I enjoyed so much the Manhattan magnificent cruise -love it!!
Thank you so much 😊
Stana M
Amazing bus tour to New York City from Toronto
Hello,
I just got back from your NYC tour this Sunday October 23,2022.  I wanted to write to tell you that we had a fantastic trip.  There were seven of us in our group and we all fell in love with Gerda our tour manager.  Michael our driver was amazing and we felt very safe with him at the healm.
Gerda was endearing, pleasant, calm, organized, knowledgeable, and has a great sense of humour.  We had children in our group and she went out of her way to welcome them and made them feel special.  You are a lucky company to have Gerda as an employee.
The tour guide in NYC was also very knowledgeable and hit all the spots we wanted to see.  We had a fantastic time in NYC and I now have friends who have signed up to take the same trip on December 15 weekend.
Thank you again,
Ann Marie L
Fantastic trip from Toronto to NYC on a coach bus
Just got back from a fabulous trip to NYC, and Comfort tours, Dennys, Natasha, and Ken was the best experience i ever had. This was on my bucket list and all was over th top perfect. Natasha and Ken were extremely helpful and so pleasant, the tour itself was perffect. So many sights and really great from on the bus to directions for other free time. Absolutely everythink was perfect, thanks to everyone.
NYC tour in October 2022 fully escorted coach tour