What our passengers are saying?
I had the best time going to Washington for the Blossoms trips in the Spring. Gerda was an amazing guide who is highly personable, engaged with her travellers, and clearly enjoys making sure that all her passengers have a wonderful time. Our bus driver Ken is an incredible and safe driver with the utmost courtesy for his passengers. This was my fifth tour with Comfort Tours and there are many great reasons I keep going back including the topnotch guides, amazing customer service, excellent hotel accomodations, best drivers, and the most competitive prices for tours of this kind. It never ceases to amaze me how many great sights we see in a short period of time and also enjoy the free time to explore on my own. The perfect balance and most memorable experiences. I'm looking forward to going to Quebec next!  Patty
Wonderful Time on Tour to Washington from Toronto
Deae Comfort tour company,
We had fantastic time last weekend at NYC.
Heidi , our td was so nice, fun and organized.
Local guide Elliott was so informative!  We got crush course I learnt a lot!
James drove us to and through busy Manhattan tightest spots like a true champion!
We had such a laid back group dynamic, we could really feel vacation vibe!
Hotel Mariott Hanover Whippany was was charming, clean with delicious breakfast selection.
Small tip before your hot hot summer season starts . Pls make sure hotel pool is open and working . After long day of walking so nice to be able to take a dip. Ours wasn't but luckily wasn't hot ,so no big deal. Maybe even some hotels have outdoor pools would be heaven for summer tours? Just an idea. I realize not as easy to book for 40+ .
Thank you for an awesome trip. Will be back!
Xoxo
Inga and Bozena from Mississauga. NYC
NYC tour from Toronto with an amazing tour director!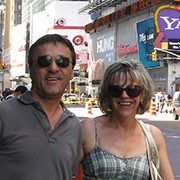 Just returned yesterday from our Chicago trip with my Husband Steve and friends Alice and John. We had so much fun and had the best tour guides Natasha, Ken and Val. They kept us laughing and we learned so much about the Windy City.They were all  very informative . Natasha made sure we saw and learned about all  the different areas of the city and kept us laughing . Beautiful city. Ken kept the bus moving and had safe travels . We will see you again soon  for another trip. Thank-you  again.

Chicago tour from Toronto
I just returned from New York City with Natasha and John ! It was the best trip ever! The stops on the way down and back were perfectly planned which made the travel days not seem so long. Natasha was an amazing tour guide who was very friendly, personable and so helpful during her tours and with her maps and resources. John did an amazing job getting us to and from New York and navigating in the crazy New York City driving and was so efficient at the border that it made this very easy also. The guided tours were amazing and our local tour guide was amazing. The guided tours helped us to know what we wanted to them see on our own time. I am not a big shopper so felt it wasn't as interested in the stop at the outlet centre on the way back but it did give us an opportunity to walk and get a bite to eat although the options were limited. However, Natasha did let us know that on the way back and we had the opportunity to get something at the first stop. It was an amazing trip, incredibly well coordinated, with a fabulous tour guide and driver!
New York City guided Tour from Toronto - May 4th 2023
I had the utmost pleasure of going to Nashville and New York City with Comfort Tours. On both trips the tour guide was Julie and the bus driver was John. What two amazing, fun, and professional individuals.  John is an excellent driver, has a great sense of humour, is very courteous, and has interesting information and stories to share about our exciting destinations. Julie is organized plus, fun, knowledgeable, and goes the extra mile to make sure every traveler has the best time possible. She is one of the best tour guides I have ever traveled with. Hotel accommodations are always top notch. In Nashville we stayed at the Gaylord Opry Resort which was absolutely stunning with six different themed areas and all decked out with Christmas lights and themes. It provided an experience of a life time in itself.
In New York we stayed at the Hyatt Regency in New Brunswick, New Jersey and walking distance to the train station with a short ride into New York if you want to stay out late. New Brunswick is quaint with an Irish Pub across the street with live music, an excellent seafood restaurant, and I even went to a comedy club one night. For those that didn't want to stay in New York, Julie organized a group dinner at Rafferty's a local restaurant.
On both trips, excellent local tour guides provided tours of local attractions and highlights. It's absolutely amazing the amount of things you get to see and experience on these tours. I also appreciated having tons of free time to explore on my own. The prices at Comfort Tour are reasonable compared to other tour companies with similar tours.  Customer service from Kim and Al are always excellent. I have gone on four trips with Comfort Tour with a fifth booked for Washington. My special requests are always responded to in literally a matter of minutes and bookings responded to immediately. Finally, as a sole traveler I appreciate that the single supplement is only $100 compared to several hundred with other companies.  My only suggestion as I have heard from fellow travelers is that it would be nice if the tours were one day longer.  Keep up the great work!
Patty P., Toronto
New York NYC & Nashville TN bus tour, satisfied loyal customer