What our passengers are saying?
Just to let you know how much my husband and I enjoyed our tour to Quebec City.....Bus was very comfortable driver Roxanne was amazing she got us in and out on some of the narrowest streets around she was terrific.....Natasha was an amazing tour director her knowledge on the city and areas history was amazing .  we have learned so much and her wit and energy was so enjoyable...as I said she was born to be a tour director.. we loved her! Thanks again for organizing a great tour! We will do another one for sure! Thanks again Joka and Rick F.
Enjoyable tour to Quebec City from Toronto with very knowledgeable tour director!
It was an amazing trip to quebec
The bus driver Roxanne was great and so was Natasha
I travel with confort tour before went to Nashville and this was the most enjoyable tour ever. Natasha really knows how to make it interesting for everyone and she knows her subject (she did her homework)
Thank you so much Natasha❤️
Amazing tour from Toronto to Quebec City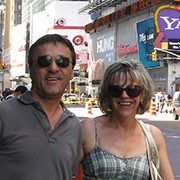 Hi there! Marla & I just completed our Nashville tour and it was fabulous! John & Julie were amazing! John was so good at driving us safely and Julie was the absolute best for giving us directions and information that we needed to make such a successful journey! We are now looking at the tour to New York for our next vacation. Thank you again for our outstanding trip! Janice & Marla
Fabulous tour to Nashville from Toronto!
Thank you for the photo! Thank you for the fun and most enjoyable Chicago tour! The entire trip was very well planned and even better executed! Your pleasant, energetic and  sometimes humorous method of guiding was appreciated. We look forward to future excursions!
Thanks again!
Richard O.
Fun and well planned Chicago tour from Toronto
Hi Natasha! Thank you so much for the group picture and all the wonderful, funny and informative stories you shared with us. We enjoyed our trip immensely and we're so impressed with your expertise and kindness, that we are looking into travelling with Comfort Tours  again in the near future. John was great too. Very friendly and humorous as well. We felt very safe while on the roads and impressed with his driving skills. All in all, Wally and I would like to give a heartfelt thank you for making our trip so memorable. Best regards, Simone and Wally O.
Amazing tour from Toronto with experienced tour director and driver!