What our passengers are saying?
Went to New York City with Comfort Tours.  Julie (the tour director) and Greg (the bus driver) were amazing.  We had absolutely the Best time.  I highly recommend this tour company.  Julie was so "on point" always providing you with the necessary information "at the right time"... She is so experienced and delightful and the trip was so "well thought out and planned" that it was pretty perfect.   Travelling to New Jersey the first day we hit "torrential rain" and Greg did an amazing job getting us to our hotel not to mention how easy and comfortable he was driving all over New York City.  We are now looking at going to "Nashville" with a bigger group.  Thank you Comfort Tours with a "special thanks" to Julie and Greg! - Sharon
New York City May 30-June 2, 2019
My wife Patricia and I just returned from our first ever trip to New York City and we're so glad we chose to do it with Comfort Tours. (May 30-June 2) Our tour co-ordinator Julie was the best! Attentive, courteous, obviously a seasoned veteran of the touring industry and she was fun to travel with. Everything ran like clock work! Greg, our driver from Denny's, was great exhibiting a wealth of patience and skill manouvering around the very challenging traffic conditions of Manhattan. We will absolutely use Comfort Tours again ourselves and would highly recommend them to others. David P.
I recently took your Chicago tour and wanted to say how awesome Natasha and Harry were for out guide and driver.... . They both went out of their way to make the whole trip comfortable and fun, Despite the inclement weather we still had the best time ever,.... The hotel was the best and we were so much more than comfortable . Second time going with Comfort Tours and will again for sure. - Diane
Chicago May 17-20, 2019 *Victoria Day*
Hello Comfort Tours - Nashville trip May 16-20, 2019.  We would like to provide our comments/feedback from our wonderful trip last weekend to Nashville.
As this was our very first bus tour, we were pleasantly surprised at how well organized, comfortable and safe the whole excursion was.  Both the tour director, Julie and the bus driver, John contributed greatly to the success of our trip to Nashville.  The hotels were top-notch and the rooms were extremely spacious and comfortable.  Loved Nashville so much that we are planning to return in the very near future.
Sincerely Cesare and Anna-Marie of Vaughan, Ontario.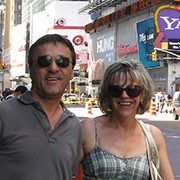 My mother and I had the pleasure of touring Boston with Eliane. Eliane's enthusiasm and energy is contagious! She made the twelve hours on a bus fly by. The tidbits she shared about our destination points were interesting and valuable in appreciating points of attraction. Every aspect of the tour was meticulously planned and organized to make the best use of our time. Thank you again Eliane for your fantastic service! - Valeria
Boston *Victoria Day* May 17-20, 2019