What our passengers are saying?
  Hi! We just returned from Boston yesterday and I want you to know we had a great time. I'll first mention our Denny's bus driver, Harry. He was awesome! We were really impressed by his turning corners and driving us around Boston in spite of the traffic.. my husband was really impressed..and that's not an easy thing to do!
    Harry was very polite , helpful , pleasant and funny! And we felt perfectly safe!
    I think Pam, the tour guide, really made the trip pleasant. She was very informative, fun to be around, made the long drive go by quickly, with stories, games, movies...
    We loved her sense of humour..kept us laughing a lot. Pam was full of information about the city, but most memorable for me was her genuine concern for her passenger's comfort and safety....I felt ...well taken care of.
    Just thought I should let someone know, it was a memorable trip, largely in part by these two memorable people.
    Yours sincerely, Gail and Al
Hi there, I just wanted to say a BIG THANK YOU to Elena and Harry who I did the Montreal/Quebec/Ottawa tour this past weekend with. On the way back, we hit a lot of traffic, and I was really worried that I wasn't going to make my drop off point in time to get a train to connect to another city. Elena and Harry were extremely helpful, kind, caring, and accommodating - and thanks to them, I was able to make the GO train and relax at the end of the trip. I just wanted to send this message to please pass along to Elena and Harry (or others, supervisors) to say what a wonderful job they did with this past weekend trip overall, but also going the 'extra step' to help a traveler out really made a difference and helped out. Thank you!! Kind regards, Milena and Alfred
3 City Tour May 19-21, 2018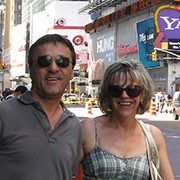 We have just returned from the Victoria holiday weekend Comfort tour to Chicago. Although the weather was chilly and often wet we really enjoyed this amazing city. Our tour director Natasha's extensive knowledge of Chicago and her ability to create special fun moments made our visit enjoyable. Her energy and enthusiasm are infectious. The hotel is lovely and peaceful in a natural setting. Our coach driver Greg displayed professionalism and good humor. We all felt safe and accommodated. We recommend this well paced 4 day adventure. Cliff and Marj
I was on your tour if Nashville that just returned on May 21st. I wanted to say that Julie made the trip very memorable her knowledge of the area and its' history increased the experience immensely. I enjoyed the accomidations we had and found the hotels to be very comfortable and welcoming. Nashville is a very vibrant and exciting place to visit. Thanks again Julie for making the journey the best. Regards, Arthur B.
Nashville May 17-21, 2018
Our family of four just returned from a Trip to New York City with Comfort Tours (our second in 3 years). We had a fantastic time and special thanks to our Tour Director Julie for making it a very pleasurable, safe and memorable one. Julie was very helpful, knowledgeable about the streets and Tourist attractions in New York, went above and beyond with decorations & created that party atmosphere on the bus to ring in the New Year. We had a wonderful time and special thanks to Julie for making it happen. - ALLWYN