What our passengers are saying?
Nashville May 17-21, 2018 tour: Not only was this was my first bus tour ever, it was my first trip to Nashville and my first time travelling solo. I'm a female 40+ and had the most AMAZING time of my life on this tour. Not only was Julie our tour guide super friendly she is extremely knowledgeable of Nashville the city and helped make this a fun trip. Our driver John was very funny, has a great sense of humour and he certainly knows how to maneuver that bus! The way he could reverse and parallel park that thing was outstanding! I found the bus itself comfortable, you had your own cup holder and outlet for plug/usb to plug in your charger for your phone or tablet. The Wi-Fi going there was a little a choppy, but working better on our way home. The Belterra hotel was very nice & super clean. The buffet, both breakfast and dinner was delicious. The Gaylord Opryland Hotel by far the best Hotel I've stayed at BUT be prepared you will got lost in it at some point, its over 4 acres big... if you don't, then you are a magical unicorn! The hotel is literally not even a 10 minute walk to the Grand Ole Opry and Opry Mills Mall. The walkway is very well lit when walking back from the Opry at night. I encourage you take advantage of getting tickets to see show at the Grand Ole Opry. I had purchased my tickets through their website in advance along with a backstage tour after the show. That alone was such a surreal moment for me as I've been a fan for years and I got to stand in that same circle on stage as so many great artists have stood before. Also, you definitely want to take get tickets for the Country Music Hall of Fame and the Studio B tour.. Julie ordered & picked up those tickets for the passengers who were interested and we paid her. The people of Nashville are super friendly & very welcoming. You really do gets lots of free time in downtown Nashville so make sure you get inside one of the bars/restaurants to truly experience the Nashville scene. The experience itself like I've said above was incredible. I met a lot of friendly people on the bus and whether you're going with someone or on your own like I was, you will make new friendship along the way. I'm considering going back on the October tour if I can get the time off work ... it really was THAT great! I do want to add one more thing, if you do decide to take the Studio B tour, do not chug a big Gatorade drink before going in.. they do not have washrooms! LOL Looking forward to my next Comfort Tour!    Lisa A
Nashville Tour May 17 2018
I recently went on the NYC tour May 10-13, 2018. I was really beyond impressed with this bus tour as well as tour guide; Julie. She was so organized and really thought of everything, right down to ear plugs for the bus ride in case you wanted to sleep during the movies she played. She had our itinerary well planned and organized. She made sure everyone was aware of the plans for the day including wake up calls at the hotel each morning. Julie could not stress enough what time you needed to be back at the bus for takeoff to the next part of schedule. There was a 5 minute window of when she wanted you back and when the bus was leaving which is fair. This schedule was strictly enforced and I was impressed by this. I have been on bus tours before and there was always at least one party in the group which were late and held people up. This did not happen on this tour as it was pointed out if you missed the bus, you were to find your way back on your own at your own expense. Everyone on the bus that weekend followed Julie's lead and never held up our tour! The tour itself was fabulous. We packed a lot in during a short period of time. This was my 19 year old son's and my first time in New York City and it was amazing! I did not feel like we missed out on anything. There were a lot of structured touring time (with a local guide) and we were given a fair amount of free time on our own to explore things in more detail. The list of activities included: Statue of Liberty and Ellis Island (additional fee of $19.00 very reasonable), Central Park, Grand Central Terminal, World Trade Centre Site, 5th and 6th Avenue, Times Square. The list of things you can see or do just goes on and on. It would be hard to run out of things to do after numerous trips never mind it being our first one! I would highly recommend (and have already to anyone I have spoken to) this tour company and would not hesitate to take another tour with this fabulous group. Many thanks for the great memories, lots of laughs, and terrific info and sights! Tammy T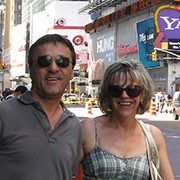 Just came back on Monday evening (May 21)..It was an AMAZING experience... We had a great time... We love the breakfast buffet at Hyatt Regency... Thanks Ken (bus driver) and Amelia (tour director) for making my 50th birthday so memorable... Can't wait for another bus tour with you Comfort tour!!!
  Hi! We just returned from Boston yesterday and I want you to know we had a great time. I'll first mention our Denny's bus driver, Harry. He was awesome! We were really impressed by his turning corners and driving us around Boston in spite of the traffic.. my husband was really impressed..and that's not an easy thing to do!
    Harry was very polite , helpful , pleasant and funny! And we felt perfectly safe!
    I think Pam, the tour guide, really made the trip pleasant. She was very informative, fun to be around, made the long drive go by quickly, with stories, games, movies...
    We loved her sense of humour..kept us laughing a lot. Pam was full of information about the city, but most memorable for me was her genuine concern for her passenger's comfort and safety....I felt ...well taken care of.
    Just thought I should let someone know, it was a memorable trip, largely in part by these two memorable people.
    Yours sincerely, Gail and Al
Hi there, I just wanted to say a BIG THANK YOU to Elena and Harry who I did the Montreal/Quebec/Ottawa tour this past weekend with. On the way back, we hit a lot of traffic, and I was really worried that I wasn't going to make my drop off point in time to get a train to connect to another city. Elena and Harry were extremely helpful, kind, caring, and accommodating - and thanks to them, I was able to make the GO train and relax at the end of the trip. I just wanted to send this message to please pass along to Elena and Harry (or others, supervisors) to say what a wonderful job they did with this past weekend trip overall, but also going the 'extra step' to help a traveler out really made a difference and helped out. Thank you!! Kind regards, Milena and Alfred
3 City Tour May 19-21, 2018