What our passengers are saying?
Hi, Writing just to thank the whole team of Comfort Tour for making the trip to New York City on Aug 3rd a great experience. Special thanks to Carole and Patty, they are so awesome people. Great experience and brilliant planning of the tour. We felt like home the whole time though we were total strangers in the group. Wishing both of them and the team all success in future. We don't have to think twice while we plan our next trip which you offer :) Regards, Sajid
 Good morning,
 I just wanted to say how great the weekend was in Boston......travelled with my BFF, Jeannie.....everyone on our tour got to know her very well.....fun person!......laughed the whole weekend!
    Ken and Julie, you were great......Ken you were an excellent driver....great person......Julie knowledgeable......wonderful tour guide.......wonderful spending time with both of you.....very accommodating......lots of fun....lots of laughter.......city of Boston is amazing......
    All the passengers onboard were great!
    Thank you again Ken & Julie.....both of you are the best👌😃
    Rose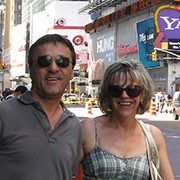 Just wanted to let you know how much we enjoyed the trip to Boston this past weekend, the service from Ken the driver from Denny's coach and Julie your tour guide was simply wonderful, they couldn't have done anything else to help make it a better experience, Julie offered so many options for people while maintaining the main tour itinerary, great job. Boston was our first taste of doing a bus tour, next up is a trip to NY in just over two weeks with you too. Can you pass along our thanks to all your team that made this a great trip. Cheers, Michael G
My daughter and I just returned from Washington DC tour on Sunday July 22. It was her 19th birthday gift and it was amazing!! Natasha our guide and John the driver (aka Mom and Dad) were so knowledgeable, kind and really made you feel welcome and safe! The guided tours were wonderful and we were able to see so many things that I'm sure we wouldn't have made it to if we had gone with Comfort Tours. Natasha and John were so flexible when it came to drop offs for our free time. I would highly recommend this tour to everyone of all ages and I can't wait until my youngest turns 19 so we can try another tour, maybe New York. - Marcy
Washington July 19-22, 2018
Just returned from the tour from Boston and had a fabulous time. Our tour guide Pam and our bus driver Ken they are absolute stars!! We had an absolutely fabulous time. The hotel was awesome the tours were well done I wouldn't hesitate to take another tour with Comfort Tours. Can't wait for the next one!! - Yvonne