What our passengers are saying?
My husband and I just returned from our first trip with Comfort Tours from Quebec City and we thoroughly enjoyed it. Thanks to our tour director Elena Louch and bus driver Betty. It was well organized/timely and the group was friendly and pleasant. Thank you - Angeline
Quebec City June 28-July 1, 2019
My husband George and I just came back from the Boston trip, June 20-23rd. Pam was our tour guide and Sean, our driver. I must say that we enjoyed ourselves because of those two mentioned above! Pam is funny, informative and hands on during the course of the trip. She was always ready with a story, a joke, a game, etc. She cared about all of us and never faltered in explanation. She respected us and gave us quiet when we needed it. She was energetic and gave 110% so that we could get the most out of our experience. Sean was a conscientious driver and always had our safety in mind. He was also very friendly and a happy go lucky guy. He tried his best to convenience us and was always willing to lend a hand. We are thrilled, and hopefully we will have the privilege of touring with those two again!
Christine M
Great Boston tour on June 20, 2019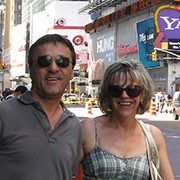 My husband and I have recently came back from the Nashville tour June 13-June 17,2019. Our tour director Julie and our driver John were exceptional both of them. Very helpful, friendly, carrying, all their focus was to make us comfortable and happy. This was our 6th time with Comfort Tour and we were very happy with all our trips. Thank you Julie and John. - Adriana & Lazar
Nashville June 13-17, 2019
Went to New York City with Comfort Tours.  Julie (the tour director) and Greg (the bus driver) were amazing.  We had absolutely the Best time.  I highly recommend this tour company.  Julie was so "on point" always providing you with the necessary information "at the right time"... She is so experienced and delightful and the trip was so "well thought out and planned" that it was pretty perfect.   Travelling to New Jersey the first day we hit "torrential rain" and Greg did an amazing job getting us to our hotel not to mention how easy and comfortable he was driving all over New York City.  We are now looking at going to "Nashville" with a bigger group.  Thank you Comfort Tours with a "special thanks" to Julie and Greg! - Sharon
New York City May 30-June 2, 2019
My wife Patricia and I just returned from our first ever trip to New York City and we're so glad we chose to do it with Comfort Tours. (May 30-June 2) Our tour co-ordinator Julie was the best! Attentive, courteous, obviously a seasoned veteran of the touring industry and she was fun to travel with. Everything ran like clock work! Greg, our driver from Denny's, was great exhibiting a wealth of patience and skill manouvering around the very challenging traffic conditions of Manhattan. We will absolutely use Comfort Tours again ourselves and would highly recommend them to others. David P.