What our passengers are saying?
We just returned from Washington DC with Comfort Tours. What a great trip!! Natasha, our tour director was amazing. She was so knowledgeable, friendly and organized!! She was very informative and kept us entertained with her stories! Harry, our bus driver was fantastic. He was an excellent driver and a great person!! My mother and I would highly recommend Comfort Tours!! We are thinking of going to Chicago or Boston next!! Thank you!
Washington DC motor coach tour from Toronto
Hello, My mom and I just got back from the Sept 21st to 23rd, 2018 Montreal/Quebec/Ottawa tour. Wow …. What a tour it was … just fabulous. Elena our tour director was very helpful and knowledgeable. Our marvelous bus driver Harry got us through the streets of Montreal safely and on time with his detours during a very busy 2 day marathon. Harry and Elena are amazing and work very well together and should be commended.  This trip is a must do for all ages. Our hotel (The Novotel) was in the heart of the city. There was no need to further use buses or taxis. The restaurants, shopping, bars and pubs etc were all in walking distance. If I were to choose another Montreal getaway this is definitely the hotel I would pick with no doubt. We saw plenty in 3 days although an extra night would have been a bonus, especially because of the location of our hotel. However we did love this tour. We have also visited Boston, Chicago and Washington with Comfort Tour and have never been disappointed. We highly recommend this tour company. We are already thinking of our next trip. Mother and Daughter Clara & Sonia
Montreal and Quebec city motor coach trip
My girlfriend and I returned from a 4-day trip to New York City. I must say, it was our first time travelling with Comfort Tours, and it has proved to be the best trip and experience we've had on this trip. Julie, our Tour Guide, and Ken, the coach driver, were absolutely amazing. Julie's approach to all the patrons on the bus, was very warm and welcoming. The guided tour arranged within Manhattan, was amazing. The guide was very knowledgeable, and shared a lot of history, and facts, built in with humor. We were given enough time to explore on our own, which was perfect. A very well planned out schedule. We are planning our next trip with Comfort Tours for the fall.
We just returned from a Fabulous trip to Washington DC August 16-19 2018,with our Tour Director Gerda and John the bus driver. Gerda was very knowledgeable with all the history Involved in this tour. There is so much to see and so much American History to take in.. All the monuments are really something to see. John got us around Washington with ease. .Thanks so much for the safe trip John. This was our second trip with Comfort Tours this year and we totally loved both of them. Looking forward to our third trip with Comfort Tours some time soon. Randy & Janice
Washington August 16-19, 2018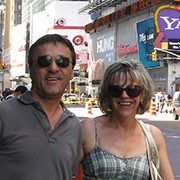 Hi Julie, My mom Paula Oliveira and I Bianca Oliveira were on your New York trip on July 26 to July 29 2018. We just wanted to thank you for the awesome trip you put together. You are an amazing person and gave us helpful tips to get around New York. Never in a million years would we ever expect to meet an incredible person who was a 9/11 nurse. We were honored to take a tour around his city with him. We will never forget our NYC trip and whenever we go back to NYC hopefully it will be with you,Eugene and John the bus conductor.We are so glad you were our tour director for New York and can't wait to go with you to Chicago next year!. Many thanks, Bianca and Paula