What our passengers are saying?
Hello,
We went on your Chicago Tour for 4 days and returned to Toronto yesterday.
We would like to thank your Team Director Natasha and coach driver Greg for all their assistance and help.
Natasha is truly an exceptional guide. Her narration of the landmarks in Chicago along with anecdotes and short stories kept the entire group engrossed. Her jokes kept us in splits.
Thank you Comfort Tours for the wonderful experience. We surely will take other tours during our next visit to Canada/USA.
Would like you to forward these pictures to Natasha & Greg.
Sudhir
Chicago June 29-July 2, 2018
Good morning Natasha and many many thanks for sending this wonderful picture.
I must once again thank you and Ken profusely for the wonderful time we had because of you both and Comfort Tours as a company. Kindly convey my thanks and regards to Ken since I do not have his email id.
You proved yourself to be a fantastic director and guide with a lot of personalised care and attention.
With best wishes and warmest personal regards,
Sumit
New York June 21-24, 2018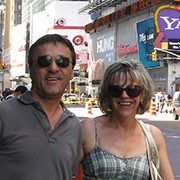 Hi There We just returned from out Comfort Bus trip to New York City. We had a excellent time, Julie the Tour Director Really Knows her Stuff. She was a wealth of Information and steered us in the right directions. John the Bus driver also was fabulous his driving skills and Patience were Top Notch. We got to see everything that was in the Itinerary and more sites were pointed out to us. We met people from around the world on this trip. The NYC tour guide Eugene was Excellent well prepared and answered all of our questions about New York City. On our Free time we were able to see many more Interesting sites. The Hotel and Breakfast buffet was also very nice. Looking forward to our next trip. Remembering all the Good Times , Many Laughs and great Memories!!! J & R
Hi I was part of the NYC tour that just wrapped up yesterday and I have to say it was absolutely fabulous. Julie was amazing, friendly, and very knowledgeable. I will remember this trip forever. I thought the cost was extremely fair and worth it . Thanks so much! - Jenna
I was on your tour if Nashville that just returned on May 21st. I wanted to say that Julie made the trip very memorable her knowledge of the area and its' history increased the experience immensely. I enjoyed the accomidations we had and found the hotels to be very comfortable and welcoming. Nashville is a very vibrant and exciting place to visit. Thanks again Julie for making the journaey the best. Regards, Arthur B.