What our passengers are saying?
Hi Julie, I wanted to take a minute and thank you (and John) soooo much for everything. The trip was awesome! There were plenty of stops… You kept things light, with still giving us great direction all the way through. We're booking Chicago very end of next summer, early fall. We hope you're there. It was a great experience all the way around. Ronda E
Nashville trip from Toronto April 21, 2022
I just wanted to take this opportunity to once again thank you and Patty for the amazing trip/tour this holiday weekend. We felt very safe and comfortable during this trip.
Initially I was going alone but then my son decided to take time away from his busy life and join me. I am blessed and grateful he did because we had a great time just us two :) lots of memories made and as he told me he is happy he joined this tour :) and the Uber driver on way home heard it all from him - lol.
Your kindness, professionalism and wonderful personality was so refreshing mixed in with great stories and laughs.
Again thank you Sue and Patty!
Thanksgiving Long Weekend Trip to Montreal 2021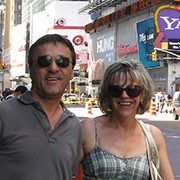 Dear Comfort Tours Toronto Management:
It is important for you to know that SAFETY is of utmost importance in travel and especially travel in another country.  I want to commend your employees, Natasha and Ken, (driver) for their very careful, comprehensive, guidance, in handling a coach full of people, many who are seniors, like myself.  Because of the excellent management of a milieu of details, the trip was very enjoyable.  Thank you😊
Sincerely,
Beverley C
Dec 29, 2019
Great driver and tour director
Just wanted to thank you again for all your efforts in making our Nashville adventure such a genuinely good time.  The tour exceeded our expectations!😀
Nashville September 26-30, 2019
Just got back from NYC with comfort tours... first ever bus tour and first time seeing NYC... cannot say enough.. this trip was the best experience in my life... Ken was our driver.. Natasha was our td... totally organized to the T... exceptional from start to finish... itinerary was perfect.. hotel absolutely amazing and breakfast ... will never forget it... definitely booking again for another trip next year... I'm telling the world just how wonderful you people are... THANKS... keep doing what you are doing.. price was well worth it... makes it affordable for everyone to do.. Janette
New York City September 19-22, 2019