What our passengers are saying?
We just did the tour of New York City Nov. 15 to Nov. 18. Our tour guide was Natasha and we couldn't have been happier with our experience. Natasha was a wealth of information and extremely welcoming and friendly. She made this such an enjoyable trip and we have already advised friends and family that to do New York City - Comfort Tours is the way to go. We are already thinking about future trips with Comfort Tours. - Ron and Joyce
Hi Julie and John! This is Elizabeth and Maria Luisa. We were on the New York City Bus Tour with you guys last Oct 5 - 8, 2018 and what can we say...you both are truly amazing. What a great tandem!  We've had an incredible time travelling in comfort, in all aspects of the tour, courtesy of you guys.  Absolutely stress-free from start to finish. Full marks!!! The group we traveled with was equally great. Friendly, cheerful, boisterous, helpful and most of all sensational as far as showing up on time is concerned. No chop-chop there and no wasting of valuable time! J Comfort Tour indeed! We're pretty sure we can speak for the rest of the group... - Elizabeth
NYC Thanksgiving October 5-8, 2018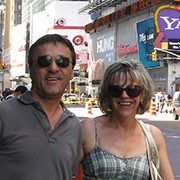 This is my second time booking a tour qith your company and both times were absolutely amazing! Just got back for our trip to Nashville and it qas very very enjoyable and I believe the success of a good trip relies on the people you go with. Julie our tour director who I had both times is very welcoming, kind and very good at keeping things on schedule, is very organized and knowledable about each location and what it has to offer and the best places to check out. Ken the driver is very good at manueving around the big city and also very good with keeping the trip on schedule. He is very nice and helpful. I love comfort tours and what they offer. The price for what it includes is definitely reasonable and I love that they show you the best of what the city has to offer the short time you are there. I would definitely reccommend this trip to anyone! Thanks Comfort Tours for making this another great adventure! - Lisa
Nashville October 11-15, 2018
We had an exceptional trip to NYC. From the moment we met our Tour Director, Natasha, and Harry our bus driver, we felt like one big happy family. Warm and friendly, informative, caring, and knowledgeable with valuable info on NYC.
We booked this trip for our daughter's 21st birthday and she was overwhelmed with the amazing experience of the entire bus ride and  visiting all the sites that they took us to.  Natasha personalized the experience making each of us feel special.  Harry was an exceptional cheerful driver that made us feel safe and maneuvered us through the streets of NYC and safely home. Harry, waited until our UBER driver arrived and helped pack our luggage before parting.
 Thank you for the incredible trip to NYC.
Looking forward to booking a future trip with you.
Oct 5-8 NYC 2018
21st Birthday and travelling to NYC coach tour
We (senior couple) had the pleasure of enjoying the New York City tour Sept. 27 – 30, 2018 through Comfort Tours with Julie as our guide, and Greg as our driver. This was our first bus trip of this kind and we had some reservations as to how we would like the "regimented" misconception we had of bus tours. Those reservations quickly flew out the window, as Greg and Julie proceeded to make it a most enjoyable weekend. Greg amazed us with his ability to handle the long drive from Toronto to New Jersey, and then the NYC traffic and congestion – incredible! He was professional, competent, friendly and punctual. Julie was energetic and enthusiastic and made you feel that you had known her for ages. She kept the group on track and ensured that everyone stuck to the timetables. Both Greg and Julie knew Manhattan well and were very helpful in explaining everything and offering suggestions. They also went above and beyond to accommodate individuals whenever possible. Our NYC tour guide, Eugene, was excellent as well – he joined us Friday morning to provide more detailed info – very knowledgeable and pleasant. The itinerary was good – bustouring in the mornings to get your bearings and free time in the afternoons to accommodate individual choices. This was particularly helpful considering this was our first trip to NYC. Admissions to attractions were not included in the tour price, which is great as it enables you to pay for what you choose to attend, and not pay for attractions that are of little interest. An added bonus is that it is assigned seating on the bus – once you book, your seat is assigned, and is your's for the entire trip, so easy to leave things in your seat when you get off the bus for breaks – great idea! The hotel (Hyatt Regency, New Brunswick, New Jersey) was above our expectations – rooms were clean and a nice size. (It was almost an hour's drive from Manhattan, but that certainly beats paying Manhattan prices.) Breakfasts were great – made to order omelets, sausage, bacon, scrambled eggs, homefries, pancakes in different forms, assorted breads, muffins, yogurt, cereals and a terrific offering of fresh fruits – really nothing more you could ask for. The group we travelled with was great as far as showing up on time, which avoids wasting everyone else's vacation time. As a sidenote, we found NYC much cleaner, much easier to navigate (great subway system), and much safer than we anticipated. Granted we were not out late at night, but at no time did we ever feel unsafe. All in all, it was a great experience (all thanks to Greg and Julie) and we would love to travel with them another time. -Judy
NYC September 27-30, 2018