What our passengers are saying?
Hi Julie, John and I traveled to NYC with you on the May long weekend, and we were really impressed with how helpful you were. You and the driver, John, made the trip so great, and we have been recommending it to everyone. We have now booked for Nashville in September, and I'm really hoping that you will be our tour director again (we are on coach B). John and Anne M
Bus tour to New York City, May long weekend with Julie
Last weekend my granddaughter and I were on the Montreal-Quebec City-Ottawa - 1000 islands tour. I wanted to let you know how pleased I was with the tour leader, Natasha and our bus driver, Harry. Both are wonderfully warm and approachable professionals who did everything to make the trip go well despite some challenges: much road construction in Montreal, change of hotel, and uncertainties in Ottawa due to possible road closures. They adapted with great calm and were enthusiastic about their jobs. As well, our guides in Montreal and Quebec City were excellent! Every young Canadian should see these major Canadian cities and I am delighted that my 12 year old granddaughter has now been there (she lives in Edmonton) and I hope this whets her curiosity to see more of her country… Thanks for making this possible for a 70+ grandmother! Janice C.
Montreal city tour Canada day celebration 2022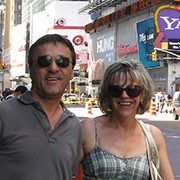 I booked my first tour with Comfort Tours for the 2022 May long weekend to Chicago for 3 nights and 4 days. What an excellent tour. Both the tour guide Natasha and Ken the driver were both amazing and friendly. Natasha made every effort to make the tour as fun and interesting as possible and Ken was amazingly pleasant and an excellent driver. I had such an amazing time and was so impressed at all the attractions we visited within such a short period of time. There was also a decent amount of free time to wander on my own. I am already looking forward to signing up for the Nashville and Boston trips later this year. Thank you Natasha and Ken!  Patty from Toronto. Patty P
Patty P. Travelled to Chicago from Toronto on Comfort Tour Canada coach tour and travel
We appreciate the services of  Ms.Natasha, tour Director, and Ken, (driver) for their careful attention, guidance. We are seniors, they both showed extra care.
Ms. Natasha went the extra mile to help us out in finding  Rly. & Taxi services to go out of town. Our immense thanks to her.
The trip was very enjoyable.
We thank you
Sincerely,
Vijaya (Viji ) & Aruni
Chicago coach tour from Toronto, May 20-23, 2022
I just come back from one wonderful trip to New York. The hotel was lovely and clean. The tour director Julie was fantastic and very helpful. John the drive was a brilliant. It's the best vacation I have had in years. Thank you so much for a lovely vacation. I am ready to book my next vacation. Vivian M. Toronto Canada, May 25, 2022
May Victoria day long weekend 2022