What our passengers are saying?
Just came back on Sunday from the New York tour with Julie and Greg. What a great time. Julie was very organized and informative. She always made sure she spoke to everyone as a group and on an individual basis She had great knowledge of the area and information about places and people that you would never discover if you traveled on your own. Greg is a fabulous driver and person. I could not imagine driving the streets of New York. He was always at the bus door to make sure you got safely on and off the bus. It was great to see how both Julie and Greg work so well together. Looking forward to my next trip. - Pat
New York City December 6-9, 2018
Thank you John and Julie for an amazing trip to New York City!! You both were exceptional! I cannot thank you both enough, your knowledge and professionalism were outstanding! I would highly recommend comfort tours and the both of you to anyone looking for a bus tour. I look forward to more tours in the future and I will most definitely be requesting the both of you!
    Thank you again for making my first ever girls week end a successful one!
    Sincerely
    Shelley
NYC November 29-December 2, 2018
Hi
    We just came back from a fabulous trip to New York!  To say we had a great time is an understatement, we were thrilled with the trip.
    Our host, Natasha, was extremely knowledgeable and we felt relaxed from the moment we boarded the bus.  She kept us informed as to where we were going to be stopping, what we'd be seeing and making sure we knew where to find the most important things we wanted to see.
    Our driver John, drove through a horrendous snow storm ( the worst since 1938), calmly and professionally.  Driving through downtown New York requires nerves of steel, but John expertly navigated the traffic and pedestrians with confidence and ease.
    Our step on guide in New York gave us such a wonderful overview of the city that we felt comfortable when we had our free time to explore the city without getting lost and knowing exactly where we needed to go.
    My husband and I had never taken a bus trip before and were leery about taking this type of vacation.  We felt immediately at ease and are looking at other trips with Comfort Tours particularly if John and Natasha are leading the way.
    Thanks again for such a wonderfully organized, top notch tour!
    Sue
We just did the tour of New York City Nov. 15 to Nov. 18. Our tour guide was Natasha and we couldn't have been happier with our experience. Natasha was a wealth of information and extremely welcoming and friendly. She made this such an enjoyable trip and we have already advised friends and family that to do New York City - Comfort Tours is the way to go. We are already thinking about future trips with Comfort Tours. - Ron and Joyce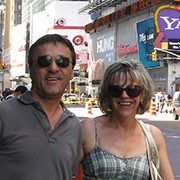 Hi Julie and John! This is Elizabeth and Maria Luisa. We were on the New York City Bus Tour with you guys last Oct 5 - 8, 2018 and what can we say...you both are truly amazing. What a great tandem!  We've had an incredible time travelling in comfort, in all aspects of the tour, courtesy of you guys.  Absolutely stress-free from start to finish. Full marks!!! The group we traveled with was equally great. Friendly, cheerful, boisterous, helpful and most of all sensational as far as showing up on time is concerned. No chop-chop there and no wasting of valuable time! J Comfort Tour indeed! We're pretty sure we can speak for the rest of the group... - Elizabeth
NYC Thanksgiving October 5-8, 2018