What our passengers are saying?
Hi Natasha, Thank you very much, Tessie and I had an amazing experience and we are very grateful to you and Ken. I have attached a video animation of Sully's landing in the Hudson, I hope it opens for you, you might find it interesting. We had so much fun, and saw so much of NewYork, and again we are very grateful, thank you, thank you, thank you. Hope to see you and Ken again for a future trip, I think Washington DC will be our next Comfort Tour trip, I don't know when. Because of the full experience that we had with you and Ken , we think we might try New York on our own next time we want to visit. Best wishes to you and Ken Oliver and Tessie T
New York travelling on coach tour
Both my wife & myself thoroughly enjoyed your ATLANTIC CANADA bus tour, with JULIE COOK as your tour director, that was completed yesterday afternoon!
This is our third or fourth COMFORT TOURS bus adventure & JULIE COOK was a consummate & totally professional tour guide, but also knew how to add a little levity & zest,  when required. She really knew her stuff, was totally in control at all times & kept the tour rolling...happily & safely.
Kudos to your company for hiring such a terrific & talented tour guide...hope we see her again on our next COMFORT TOURS bus tour!
Kathy & Lorne L
East coast trip of Canada 2022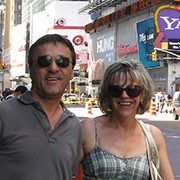 Just came back Quebec, Montreal, Ottawa & Thousand Island Tour. It was worth it. Well recommended specially having a tour guide(Ursula) who was knowledgeable. Harry an awesome driver. Accommodation was superb which includes a great breakfast buffet.
Tour director Ursula in Montreal coach tour
We just got back from a bus tour to NYC with Julie and John. What a terrific time we had. From start to finish, it was such a pleasure. Everything went smoothly and we will never forget this wonderful experience. John and Julie are a perfect team and Hardy, our one day guide was so knowledgeable. Can't wait to tell everyone how easy this trip was and what a fantastic way to go! We will highly recommend this to friends and family and will definitely book another vacation through Comfort Tours. Many thanks to everyone involved. Dave & Alice B
Great team of drivers and tour directors at Comfort Tour Canada
Good Morning:   This was my first bus tour with Comfort tours, and I was impressed with the tour director Julie and bus driver Miriam. Both offered specific skills for this trip to NYC. The tour guide Hardy was amazing and learned so much history about the people and sights of NYC. I know if Hardy was available on the Saturday for another tour of individual  places to visit I would definitely sign up for that experience. The bus was comfortable, but there was no where to place a book, or magazine. Comfort Tour offers a good selection of other places I would like to visit, and hope this will possible in the future. Thank-you. Anne
New York City tour, July 29, 2022 from Toronto Canada