What our passengers are saying?
Dear all,
The NYC tour was impressive! I am so happy with the tour, Mike was an excellent driver, kind helpful professional, Gerda the tour director provided such a splendid experience. I enjoyed so much the Manhattan magnificent cruise -love it!!
Thank you so much 😊
Stana M
Amazing bus tour to New York City from Toronto
Hello,
I just got back from your NYC tour this Sunday October 23,2022.  I wanted to write to tell you that we had a fantastic trip.  There were seven of us in our group and we all fell in love with Gerda our tour manager.  Michael our driver was amazing and we felt very safe with him at the healm.
Gerda was endearing, pleasant, calm, organized, knowledgeable, and has a great sense of humour.  We had children in our group and she went out of her way to welcome them and made them feel special.  You are a lucky company to have Gerda as an employee.
The tour guide in NYC was also very knowledgeable and hit all the spots we wanted to see.  We had a fantastic time in NYC and I now have friends who have signed up to take the same trip on December 15 weekend.
Thank you again,
Ann Marie L
Fantastic trip from Toronto to NYC on a coach bus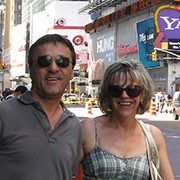 Just got back from a fabulous trip to NYC, and Comfort tours, Dennys, Natasha, and Ken was the best experience i ever had. This was on my bucket list and all was over th top perfect. Natasha and Ken were extremely helpful and so pleasant, the tour itself was perffect. So many sights and really great from on the bus to directions for other free time. Absolutely everythink was perfect, thanks to everyone.
NYC tour in October 2022 fully escorted coach tour
Hi Natasha, Thank you very much, Tessie and I had an amazing experience and we are very grateful to you and Ken. I have attached a video animation of Sully's landing in the Hudson, I hope it opens for you, you might find it interesting. We had so much fun, and saw so much of NewYork, and again we are very grateful, thank you, thank you, thank you. Hope to see you and Ken again for a future trip, I think Washington DC will be our next Comfort Tour trip, I don't know when. Because of the full experience that we had with you and Ken , we think we might try New York on our own next time we want to visit. Best wishes to you and Ken Oliver and Tessie T
New York travelling on coach tour
Both my wife & myself thoroughly enjoyed your ATLANTIC CANADA bus tour, with JULIE COOK as your tour director, that was completed yesterday afternoon!
This is our third or fourth COMFORT TOURS bus adventure & JULIE COOK was a consummate & totally professional tour guide, but also knew how to add a little levity & zest,  when required. She really knew her stuff, was totally in control at all times & kept the tour rolling...happily & safely.
Kudos to your company for hiring such a terrific & talented tour guide...hope we see her again on our next COMFORT TOURS bus tour!
Kathy & Lorne L
East coast trip of Canada 2022