What our passengers are saying?
April, 23, 2019 Hello, Just wanted to drop a few lines and say - what a great trip! I am a 6th time return customer different destinations, tour directors and drivers, and I can honestly say that I never had a bad experience with Comfort tours. This time I even brought two of my friends with me, and they absolutely loved it! Natasha is one of the best, she is very informative, knowledgeable,  funny, witty and above all crazy helpful - so many useful tips. She has a way with people it seems - I've traveled a lot but never has a group of people been more as obedient and punctual as this last group, way to go Natasha! And of course Harry, what a trooper!  Another big hit was our step on tour guide in the city (I believe the name was Michael??, if anyone knows his full name I'd appreciate a response as I would love to drop a line and say thank you from the three of us through social media as we did not have time to do it in person. All in all, a big thanks to the whole team! Keep up the great work and quality of service as that is something really hard to find these days. These trips are a perfect little quick escape from reality, both fun and educational but all that would be irrelevant if it was not for the tour director and driver that make the experience as best as it can be. Great job guys! Thanks, Tajana L
Washington Cherry Blossom coach tour
Good morning Natasha! Just wanted to thank you once again for being such a great Tour Director.  We LOVED the trip to Washington.  I especially liked how organized you were, handing out maps (you know I love maps!) brochures, and information ahead of time so we could be prepared for upcoming parts of our itinerary. I am looking forward to printing my pictures, and showing them to our children this weekend. It was a great weekend! Carol
Washington April 11-14, 2019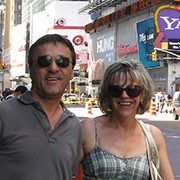 Dear Comfort Tour Organizer, My sister, Conchita, and I came back from our New York City Tour 4days/3nights tour with Natasha and John, our tour guide and driver on November 18, 2018. This was our first tour to New York and it was quite an eye opener specially for my sister, Conchita who came from the Philippines. The snow storm we had in New Jersey and being stacked in the highway for 5 hours was an ordeal but with the expertise of our driver, John, who knew the ins and outs of the highway, our trip was not a disaster unlike what the news had broadcasted the next day. Our local guide in New York was so knowledgeable and pleasant and friendly. It made our trip so meaningful and interesting. But the best part of our trip was Natasha who was so accommodating, pleasant, courteous, knowledgeable. I know that is what every tour director's job is, but, she did her job with "gusto" she did it beyond her call of duty. I would like to express my sincerest praises to your team! Keep up the good work! We are one happy customer and would like to go with your tour in the future. Good luck, Natasha and John! - Victoria
New York City November 15-18, 2018
I just did my first weekend bus tour to NYC on Nov. 29. I wanted to thank our guide Julie and our driver John. Julie was fantastic and provided so much information about everything we needed to know to make our NYC experience amazing. I also want to thank John for his precision driving! John and Julie make a great team and I will definitely be a return customer!!!!
November 29 NYC coach tour from Toronto
We had a wonderful trip to New York 6-9th December, 2018. Julie is a Great Tour director for Comfort Tours and our driver for Denny's Greg was Amazing. The hotel in New Brunswick N.J. Was Great! - Catherine and John
New York City December 6-9, 2018