What our passengers are saying?
Just wanted to thank you again for all your efforts in making our Nashville adventure such a genuinely good time.  The tour exceeded our expectations!😀
Nashville September 26-30, 2019
Just got back from NYC with comfort tours... first ever bus tour and first time seeing NYC... cannot say enough.. this trip was the best experience in my life... Ken was our driver.. Natasha was our td... totally organized to the T... exceptional from start to finish... itinerary was perfect.. hotel absolutely amazing and breakfast ... will never forget it... definitely booking again for another trip next year... I'm telling the world just how wonderful you people are... THANKS... keep doing what you are doing.. price was well worth it... makes it affordable for everyone to do.. Janette
New York City September 19-22, 2019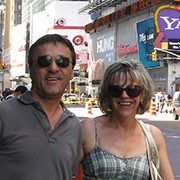 Dear Comfort Tour,  Thank you. Both the driver and the Tour Guide (Ken and Heidi) were very professional. Will recommend your company to my friends and plan to book with you again - Rose
My family loved this tour. We would like o thank Harry, Tour Director and your company for the good organization of this tour.
Thanks
Jammu
Montreal, Quebec City & Ottawa - August 3-5, 2019
My husband and I returned from a 4 day bus trip to New York City last night and want to share with you that we had an amazing experience. Our tour guide Eliane and bus driver Mariam were excellent – wonderful personalities and so knowledgeable. We travelled with our daughter and granddaughter and will certainly plan to do another bus trip. It far exceeded our expectations due to Eliane and Mariam! Paul and Sylvia
New York City July 25-28, 2019