What our passengers are saying?
Thank you for the photo! Thank you for the fun and most enjoyable Chicago tour! The entire trip was very well planned and even better executed! Your pleasant, energetic and  sometimes humorous method of guiding was appreciated. We look forward to future excursions!
Thanks again!
Richard O.
Fun and well planned Chicago tour from Toronto
Hi Natasha! Thank you so much for the group picture and all the wonderful, funny and informative stories you shared with us. We enjoyed our trip immensely and we're so impressed with your expertise and kindness, that we are looking into travelling with Comfort Tours  again in the near future. John was great too. Very friendly and humorous as well. We felt very safe while on the roads and impressed with his driving skills. All in all, Wally and I would like to give a heartfelt thank you for making our trip so memorable. Best regards, Simone and Wally O.
Amazing tour from Toronto with experienced tour director and driver!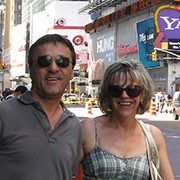 Dear Natasha: Thanks for making my first bus trip to Chicago so memorable. Most especially for helping me (as the only single on the tour) integrate with the group. And, make some connections with fun fellow passengers. Your enthusiasm for the city of Chicago was infectious. Really appreciated your helpful recommendations and tips. And, most especially, your anecdotes and terrific sense of humour. I was sorry I didn't receive a hug at end of trip. Perhaps on another trip? Stay well, Christine
Chicago tour from Toronto with an exceptional tour director!
Hi Julie, Marjorie and I would like to thank you for all the hard work you and Bob put in to make our trip a memorable one, we wish you all the success in your future tours and will remember you with love for the kind and thoughtful person you are, we had a fun and memorable time, thanks again Ray and Joy…
Wonderful 7 days East Coast tour experience
I just did the Chicago Tour and it was FANTASTIC!! Natasha was such a great guide, and Ken a great driver! I felt like I was in Chicago for a week, as we did so much and learned so much about the beautiful city!! Absolutely I would recommend this tour to anyone! I'm already planning my next trip with Comfort Tours! Such a great experience and Natasha and Ken were amazing!!! Krystina S.
Chicago tour from Toronto with amazing tour director and bus driver