Choose the cities you would like to visit:
What our passengers are saying?
A mix of over 2,000 real reviews and photos of our passengers!
Both my wife & myself thoroughly enjoyed your ATLANTIC CANADA bus tour, with JULIE COOK as your tour director, that was completed yesterday afternoon! This is our third or fourth COMFORT TOURS bus adventure & JULIE COOK was a consummate & totally professional tour guide, but also knew how to add a little levity & zest,  when required. She
really knew her stuff, was totally in control at all times & kept the tour rolling...happily & safely. Kudos to your company for hiring such a terrific & talented tour guide...hope we see her again on our next COMFORT TOURS bus tour! Kathy & Lorne L
more
East coast trip of Canada 2022
Ron and Sue  Just came back Quebec, Montreal, Ottawa & Thousand Island Tour. It was worth it. Well recommended specially having a tour guide(Ursula) who was knowledgeable. Harry an awesome driver. Accommodation was superb which includes a great breakfast buffet.
more
Tour director Ursula in Montreal coach tour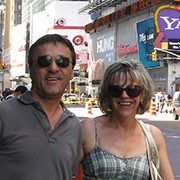 Upcoming Tours
October 07 - 10, 2022
Thanksgiving Day